[ad_1]

England and Pakistan clash at Old Trafford from the 5th of August in what will be the 26th Test series between the two sides.
We look back at the numbers and records from the past, some great performances and close encounters.
TEAM RECORDS
9-8: Head to Head in Series
England dominated the initial rivalry between 1961-1982 before Pakistan won 5 series on the trot (1984-1996). The last two series have been highly competitive.
25-21: Head to Head in Matches
England hold a slight advantage
ENGLAND VS PAKISTAN FULL COVERAGE
708: Highest Team Score: Pakistan (at The Oval in 1987)
Interestingly, the top 4 innings' totals have been all set by Pakistan and are all 600-plus.
England's highest team score is 598/9 at Abu Dhabi in 2015.
72: Lowest Completed Team Score: Pakistan (at Birmingham in 2010) and England (Abu Dhabi in 2012)
Innings and 225 Runs: Highest Margin of Victory: England
England skittled Pakistan for 74 and 147 at Lord's in 2010 to register their biggest victory over them.
Pakistan's biggest win against England came in Lahore in 2005 when they thrashed the visitors by an innings and 100 runs.
ALSO READ: England's Domination, Pakistan's Successive Wins & Recent Battles – A Summary Of Eng Vs Pak In Test Cricket
2 Wickets: Lowest Margin of Victory: Pakistan
Pakistan beat England by two wickets in a cliffhanger at Lord's in 1992. Chasing 138 in the final innings, Pakistan were in dire straits at 95 for 8 before the 2 Ws – Wasim (unbeaten 45) and Waqar (unbeaten 20) put together an unbeaten match-winning stand of 46 and won the match for their team with the bat!
Pakistan beat England by 22 runs in Multan in 2005 – that is the narrowest win by runs between the two sides.
BATTING RECORDS
1719: The Highest Run Aggregate: Alastair Cook
Cook scored 1719 runs against Pakistan at an average of 49.11 across 6 series between 2006 and 2018. He registered 5 hundreds including a highest of 263 in Abu Dhabi in 2015 – the same series in which he was the highest scorer with 450 runs in 3 Tests.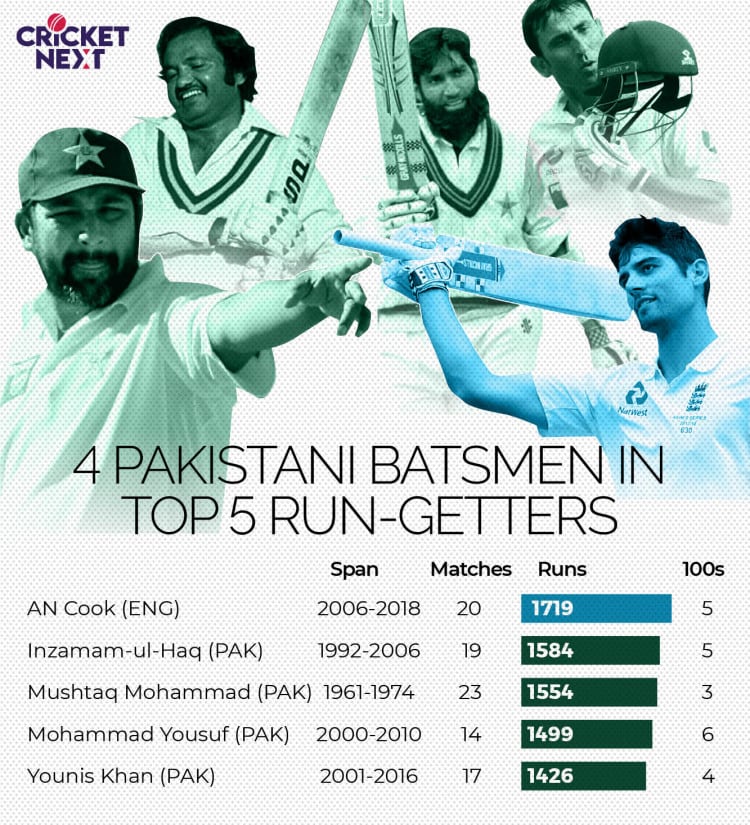 6: Maximum Hundreds: Mohammad Yousuf
Alastair Cook and Inzamam-ul-Haq recorded 5 hundreds each
631: Maximum Runs in a Series: Mohammad Yousuf
Mohammad Yousuf amassed 631 runs in 7 innings (4 Tests) on the 2006 tour of England at an average of 90.14 including 2 hundreds and a double hundred. Pakistan still lost the four-match series 3-0!
ALSO READ: From Forfeited Test to Wahab Riaz & Jonathan Trott Brawl, Five Great ENG-PAK Flare-ups
3: Maximum Hundreds in a Series: Peter Parfitt (1962), Ken Barrington (1967), Mohammad Yousuf (2006) and Ian Bell (2006)
93.62: Highest Batting Average (min. 700 runs): Ted Dexter
Milan born, Ted Dexter, was the highest scorer for England in the historic 1961 series win in Pakistan. He was on top of the run-charts again in the series that followed in England next year.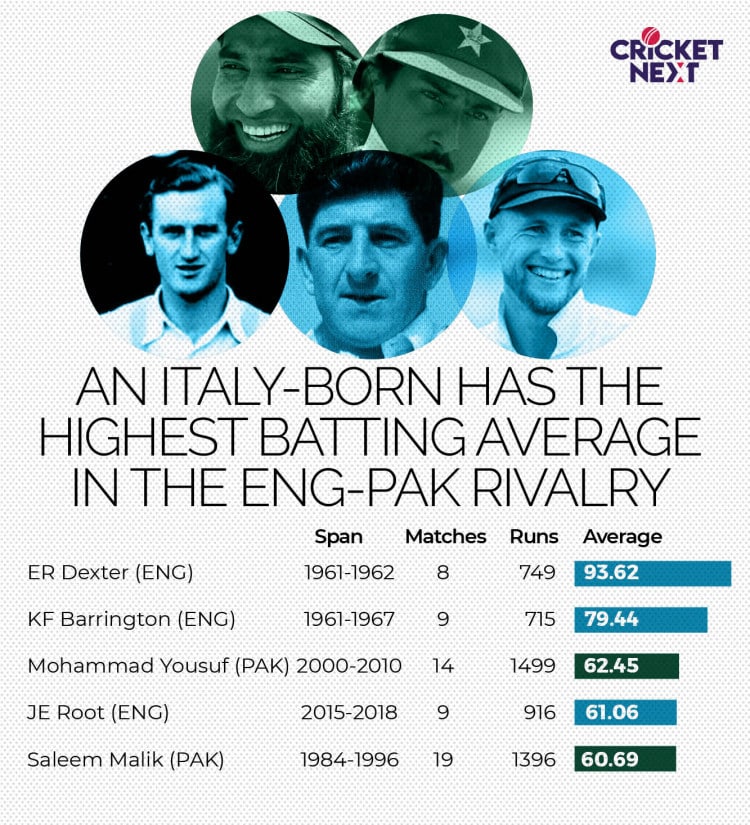 278: Highest Score in an Innings: Denis Compton (at Nottingham in 1954)
The highest score by a Pakistani batsman is 274 by Zaheer Abbas in Birmingham in 1971.
Only two batsmen have recorded two double hundreds in the England vs Pakistan rivalry – Zaheer Abbas and Mohammad Yousuf.
325: Most Runs in a Match: Joe Root (at Manchester in 2016)
Root slammed 254 in the first innings and 71 in the second as England beat Pakistan by 330 runs at Old Trafford in 2016
BOWLING RECORDS
82: Maximum Wickets: Abdul Qadir
Amongst all those great fast bowlers from England and Pakistan, it is interesting that a leg spinner is the leading wicket-taker in the rivalry between the two countries. Qadir picked 82 wickets in 16 Tests across 5 series between 1977 and 1987 against England.
His standout performance came in the home series in 1987 where he was the highest wicket-taker with 30 wickets in just 3 Tests!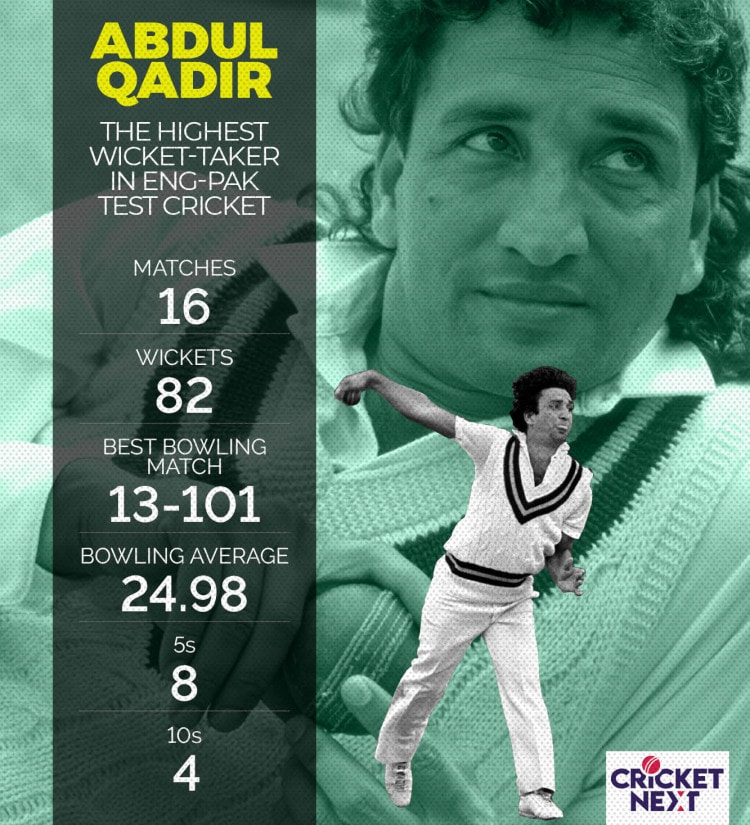 30: Maximum Wickets in a Series: Abdul Qadir
Qadir picked 30 wickets in just 3 Tests at an average of 14.56 including three 5s and two 10s in the home series in 1987
26: Maximum Wickets in a Series for England: Chris Woakes
Woakes picked up 26 wickets in 4 Tests in the 2016 home series
9: Maximum Number of Wickets Taken in an Innings: Abdul Qadir
Qadir's 9-56 in 37 overs cleaned up England for 175 in the first innings in Lahore in 1987. Pakistan went on to win by an innings and 87 runs.
13-71: Best Bowling Figures in a Match: Derek Underwood
Underwood picked 5 in the first and 8 in the second innings at Lord's in 1974.
Qadir also picked 13 wickets in the Lahore Test in 1987.
It is interesting that two spinners have the best bowling figures amongst the plethora of fast bowling talent produced by the two sides.
18.58: Best Bowling Average (Min. 8 Tests and 20 wickets): James Anderson
Anderson has picked 63 wickets in 15 Tests against Pakistan.
He is followed by Stuart Broad (24), Neil Foster (24.03), Derek Underwood (24.11) and Bob Willis (24.11) – all Englishmen.
Imran Khan (24.63) has the best bowling average for a Pakistani bowler against England.
48.5: Best Bowling Strike Rate: Waqar Younis
Waqar picked 50 wickets in 11 Tests against England
PARTNERSHIP RECORDS
901: Highest Aggregate Runs between two batsmen: Inzamam-ul-Haq and Mohammad Yousuf
The pair added 901 runs in just 9 innings at an average of 112.62 including 4 hundred partnerships
363: Highest Partnership in an Innings: Mohammad Yousuf and Younis Khan (at Leeds in 2006)
332: Highest Partnership in an Innings for England: Stuart Broad and Jonathan Trott (for the 8th wicket at Lord's in 2010)
There has been just one more 300-plus partnership – Javed Miandad and Saleem Malik added 322 for the 4th wicket in Birmingham in 1992.


[ad_2]

Source link