[ad_1]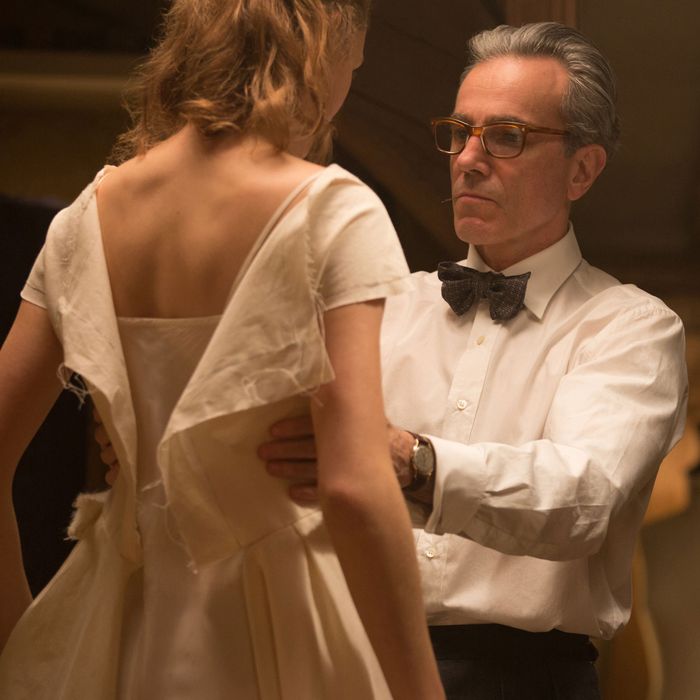 Phantom Thread.
Photo: Laurie Sparham/Focus Features.
Who's ready for another streaming service? NBCUniversal has jumped into the crowded pool in 2020 with the launch of its long-awaited Peacock, a new destination for everything from classic monster movies to episodes of 30 Rock to original programming.
But as with all of these services, it can all be a little overwhelming. How do you dig through the hundreds of films in the Peacock library to find what's best?
The truth is that Peacock's film catalogue is a little thin and a little strange (there's an amazing number of B-movies like Mega Shark Versus Giant Octopus), but it does have some of the weight of the Universal brand and all its history, including classic franchises and recent hits (and the service will likely have more when licensing deals expire with other streaming platforms). But until the selection expands, you can't go wrong with any of the following 50 films.
The Abbott and Costello Movies
There was a time when Bud Abbott and Lou Costello were one of the most popular comedy teams in the world. Luckily, their charming brand of physical humor is timeless. Introduce your kids to four classic Abbott and Costello monster movies: Abbott and Costello Meet Dr. Jekyll and Mr. Hyde, Abbott and Costello Meet Frankenstein, Abbott and Costello Meet the Invisible Man, and Abbott and Costello Meet the Mummy. They're all delightful.
All That Heaven Allows
Outside of the monster movies and Hitchcock works, the Peacock classic movies catalogue doesn't compare to HBO Max or the Criterion Channel. Still, there are a few interesting options, including a couple of films by the great king of melodrama, Douglas Sirk. This story of unaccepted love between a widow (Jane Wyman) and a younger man (Rock Hudson) is one of the best films of its kind ever made. (Imitation of Life, also on the service, is worth your time as well.)
American Psycho
Mary Harron's adaptation of the Bret Easton Ellis novel was instantly controversial, and instantly iconic. Christian Bale stepped into the role of the serial killer that had previously caused an uproar in the literary world and went on to redefine the way we see psychopaths in cinema.
Atonement
Joe Wright adapted the masterful novel of the same name by Ian McEwan in a way that's lyrical and devastating. James McAvoy, Keira Knightley, Saoirse Ronan, and Vanessa Redgrave star in this story that unfolds across generations in a manner that is both poetic and deeply human. It's one of the best films of the 2000s, and was an Oscar nominee for Best Picture and Best Adapted Screenplay.
Bernie
Richard Linklater directed this black comedy based on the true story of Bernie Tiede (Jack Black), a man who befriended an elderly Texas woman named Marjorie Nugent (Shirley MacLaine) and ended up murdering her. It's a quirky little movie with one of Black's best performances and a great supporting turn by Matthew McConaughey.
Big Fan
Patton Oswalt is phenomenal in the 2009 thriller about toxic fandom. The stand-up comedian plays Paul, an average New Yorker with an outsize love for the New York Giants. Paul randomly runs into a Giants player in Staten Island, setting off a sequence of events driven by Paul's need for acceptance and attention.
The Blair Witch Project
When the movie first dropped at Sundance back in 1999, it felt like something entirely new. Two decades of found-footage imitators has dulled some of its impact, but The Blair Witch Project remains the model for how to do this kind of DIY horror well. And it's still pretty damn terrifying.
The Bourne Trilogy
The entire Bourne arc isn't on Peacock yet, but the original '00s trilogy is all most fans really want anyway. Experience the best of Matt Damon as Jason Bourne in 2002's The Bourne Identity, 2004's The Bourne Supremacy (the best of the three), and 2007's The Bourne Ultimatum.
Bug
William Friedkin (The Exorcist) directed a searing adaptation of the hit Tracy Letts play of the same name about a woman (Ashley Judd) who ends up trapped in a room with a delusional man, unforgettably played by Michael Shannon. A study in paranoia, this is a wonderful actor's showcase for Shannon and Judd, given some of that great Letts dialogue and tight Friedkin direction.
Cape Fear
Most viewers probably know more of the Robert De Niro remake (at least in GIF form) but people should revisit the 1962 original, a great showcase for the star power of Gregory Peck and Robert Mitchum. Of course, Peck plays the good guy, the attorney who is stalked and terrorized by the criminal, played unforgettably by Mitchum, one of cinema's best bad guys.
Charade
The wonderful 1963 film is part romantic comedy and part Hitchockian mystery, courtesy of master director Stanley Donen and the blinding charisma of Cary Grant and Audrey Hepburn. A lot of movies try to be a little bit of everything, but few in history have blended genres as diverse as screwball comedy and suspense thriller quite as seamlessly as Charade.
Children of Men
The adoration for this 2006 sci-fi thriller seems to grow with each passing year. Clive Owen stars in the story of a society on the edge of collapse because of worldwide infertility and how everything changes when a sign of hope for the future appears.
Clockers
Delroy Lindo is having an amazing 2020, with critics righteously praising his incredible work in Spike Lee's Da 5 Bloods, but it's not the first great performance he gave for Lee. In fact, his best film work before 2020 came a quarter-century ago with this searing adaptation of the Richard Price novel about an average drug dealer who gets caught up in a murder investigation. There's a lot of Lee on Peacock, including this, Crooklyn, Da Sweet Blood of Jesus, and Mo Better Blues. 
Creature From the Black Lagoon
One could spend a long time in the Peacock service just watching old Universal monster movies, but this one often falls in the shadow of more iconic baddies like Dracula, Frankenstein, and The Mummy. It's easily one of the best films of its kind, a dreamlike horror movie about what lurks beneath the water.
Dead Ringers
David Cronenberg co-wrote and directed the terrifying story of identical twin gynecologists played unforgettably by Jeremy Irons, giving one of the best performances of his career. Irons plays Elliot and Beverly Mantle, infertility experts with a twisted practice of seducing clients and passing them off to one another. And then it gets really weird.
The Deer Hunter
One of the most iconic Vietnam War movies came not long after the end of the war and seared itself so completely into the American experience that it won the Oscar for Best Picture. Michael Cimino directs a story of steelworkers who are forever changed by the Vietnam War, guiding fantastic performances from Robert De Niro, Christopher Walken, John Savage, John Cazale, and Meryl Streep. It won Walken his only Oscar.
Destry Rides Again
It's hard to find a lot of Westerns on Peacock, but here's a classic from George Marshall that may not have crossed your radar but is definitely worth your time. James Stewart may be the title character, but the film belongs to Marlene Dietrich as a dancer who captivates everyone around her. It's a charming, funny movie that reminds one why Stewart and Dietrich were two of the biggest stars in the world.
Do the Right Thing
Over 30 years after its release, Spike Lee's 1989 masterpiece feels as urgent and current as the day it was released. After the unrest in early 2020, many people seemed to revisit this classic and it's lost none of its power. In fact, every viewing of Do the Right Thing feels fresh and new again. It's one of the best films ever made.
Double Indemnity
Arguably the best film one could use as a gateway to noir. If you're interested in the genre or want to introduce it to your kids, start with this 1944 Billy Wilder film about an insurance salesman (Fred MacMurray) who is drawn into a plot to kill the husband (Edward G. Robinson) of an unforgettable femme fatale (Barbara Stanwyck).
Dracula
Naturally, one of the biggest draws of a Universal movie catalogue is going to be in its monster movies, and there are a bunch of them on Peacock. This is the classic, the Tod Browning effort that turned Bela Lugosi into a star and redefined the way Count Dracula would be played for generations to come. It still rules.
Eastern Promises
David Cronenberg directed this fantastic 2007 gangster flick that's become iconic for a naked fight scene, but the movie around that is pretty great too. Naomi Watts stars as a midwife who uncovers a Russian prostitution ring that draws in the son of the godfather played by Vincent Cassel and an enforcer, played by Viggo Mortensen, in one of his best screen performances.
Fast and Furious
Only one of the movies from this blockbuster franchise is currently in the Peacock system, a strange choice but likely due to licensing deals at other companies. It probably won't be long before they're all here, but you can start with this midpoint in the series, the 4th chapter — the film that, along with Fast Five, really ushered in the new, larger-than-life tone that redefined the franchise.
Fletch
One of Chevy Chase's best screen performances came in this 1985 comedy based on the hit novels by Gregory McDonald. The character of a reporter nicknamed Fletch who gets drawn into an investigation after being asked to kill a millionaire is perfect for Chase, blending his physical comedy ability with that oversize ego.
Frailty
The late Bill Paxton directed and co-stars in a stunning psychological thriller that didn't get a lot of attention in 2001 but has developed a following over the years. Matthew McConaughey stars as a young man who tells the FBI that his brother is the man behind a string of serial killings, inspired by their upbringing at the hands of a man (Paxton) who told them he had been visited by God and told to destroy demons in human form on Earth.
Gosford Park
This Oscar winner from 2001 was directed by the late great Robert Altman and features one of the master director's best ensembles, including Michael Gambon, Richard E. Grant, Kelly Macdonald, Helen Mirren, Clive Owen, Ryan Phillippe, Maggie Smith, Kristin Scott Thomas, and Emily Watson. The luminous ensemble thrives under Altman and writer Julian Fellowes' dissection of class embedded in a clever murder mystery comedy.
Hitchcock movies!
We can't pick just one, so consider this an entry for the number of films by the master of suspense that are in the Universal catalogue, including Psycho, Vertigo, North by Northwest, The Man Who Knew Too Much, and many more. It's a great starting point to introduce young viewers to one of the best directors of all time.
In the Name of the Father
Daniel Day-Lewis stars in this biographical drama from Jim Sheridan, who directed DDL to an Oscar for My Left Foot. He would be nominated here too for playing Gerry Conlon, an Irishman falsely accused and convicted of a deadly bombing in 1974. While it seems to have been somewhat forgotten by time, the movie was nominated for seven Oscars on its release, including Best Picture.
Joe
At least on launch day, there's an entire "Nicolas Cage" section on Peacock, indicating how much people love to watch the actor shoot for the stars in clips online. However, Peacock also includes the less "B-movie" performances, including this excellent 2013 film in which Cage plays a logger who ends up protecting a boy (Tye Sheridan) from his abusive father.
Jurassic Park
The original trilogy is on Peacock — the World films likely will be soon — but the first film remains the best of the bunch. In fact, Steven Spielberg's 1993 blockbuster has held up better than any film of its era. Sure, some of the special effects are dated (although less than you think), but the way he composes his story of scientific miracles derailed by human corruption is timeless. And it all feels surprisingly current given decisions being made in 2020 (looking at you, Disney World).
The Last Temptation of Christ
Martin Scorsese's 1988 film about the final days of Jesus Christ courted plenty of controversy upon its release. Written by Paul Schrader, the film stars Willem Dafoe as the title character, who struggles with temptation and doubt in the final days of his existence. Presenting Christ as fallible infuriated some people, but history has recognized this as one of Scorsese's best films.
Lost Highway
Between Twin Peaks and Mulholland Drive, David Lynch co-wrote and directed a twisted surreal noir about a musician who … well, it's hard to explain. Bill Paxton plays the leading man who gets caught up in a murder conviction, after which he turns into Balthazar Getty. And that's not the weirdest thing about this unforgettable nightmare that also features great turns from Patricia Arquette and Robert Blake.
Man on the Moon
One of Jim Carrey's best performances came in this biopic of Andy Kaufman, one of the most unique and unforgettable comedians of all time. While director Miloš Forman hits many of the traditional biopic beats, he also melds Carrey's distinct persona with that of Kaufman, giving the actor a platform to bring some of his own style to the role instead of just doing an impersonation. It's a great movie.
The Matrix Trilogy
The world-famous trilogy from the Wachowskis has bounced around the streaming services for the last few years, popping on and off of nearly all of them. So it makes sense that they've already landed on Peacock, where you can watch all three movies (though we understand if you stop after the first).
The Mummy
There is a stunning amount of Mummy-related content on Peacock, including the Abbott and Costello crossover, 1940s classics with Lon Chaney Jr., and even a couple of animated series, but this entry is for the Brendan Fraser 1999 blockbuster, a movie that was fun when it came out and has developed a really loyal following over the years. Also check out the lesser-but-still-fun The Mummy Returns.
Murderball
The rap on documentaries is that they're not as much fun as action movies or blockbusters. Disprove that to your friends by making them watch Murderball, an amazing 2005 doc about wheelchair rugby. It charts the rivalry between teams of wheelchair rugby players leading up to the 2004 Paralympic Games; it's inspiring and riveting nonfiction storytelling.
My Man Godfrey
Not the David Niven remake but the 1936 original screwball comedy starring William Powell and Carole Lombard. Again, the Peacock catalogue isn't going to challenge services like Criterion or HBO Max for movie-buff dominance, but there are a larger number of films made before 1980 than some other streaming services. Take the chance to watch this charmer.
Parenthood
Before it was a hit series for NBC, Parenthood was a hit comedy for Universal, directed by Ron Howard. The Oscar winner helmed the relatively simple story of familial chaos that has maintained a fan base because of the charming power of its cast, including Steve Martin, Rick Moranis, Martha Plimpton, Mary Steenburgen, and a young Keanu Reeves.
Phantom Thread
There aren't a large number of new critical darlings on Peacock, which could explain why they were pushing this Best Picture nominee on the front page on launch day. Paul Thomas Anderson directed this story of a fashion designer, played unforgettably by Daniel Day-Lewis, and the twisted relationship that forms between him and a waitress.
Play Misty for Me
He may be known now for directing a new movie pretty much every year, but Clint Eastwood's directorial debut, a tight 1971 thriller in which the iconic actor also stars, is also worth a watch. Eastwood plays a D.J. who is stalked by an obsessed fan, played by Jessica Walter. It's a lean little suspense movie that still works a half-century later.
Primary Colors
Remember when politics were as simple as the controversies around Bill Clinton? Relive those times with a sharp Mike Nichols dramedy about the Clinton era, in which John Travolta plays the Bill surrogate named Jack Stanton, and Emma Thompson plays his wife. The real draw here is the amazing Elaine May script, which earned the legend an Oscar nomination.
Red Rock West
Another standout in the Nicolas Cage section of Peacock is this 1993 noir thriller from the great John Dahl. Cage plays a drifter who stumbles into the small Wyoming town of Red Rock and into a mistaken identity plot that the Master of Suspense himself would have loved. Seriously, a lot of movies are called "Hitchockian," but this one earns it.
Reservoir Dogs
The only Quentin Tarantino film on Peacock is his first effort, a movie that announced a major new talent as much as any debut of the '90s. Remarkably, unlike a lot of '80s and '90s debuts, this one works just as well today. It would arguably be an even bigger hit if it came out in 2020. That's how much QT influenced the form for the quarter-century after its release.
The Road Movies
Four of the classic Bob Hope & Bing Crosby collaborations are on Peacock waiting to be rediscovered by old subscribers or experienced for the first time by young ones. They are 1940's Road to Singapore, 1941's Road to Zanzibar, 1942's Road to Morocco, and 1946's Road to Utopia. Some of the humor may be dated now, but the comic timing is timeless.
Sea of Love
This 1989 thriller was seen as a bit of a comeback for Al Pacino after a few bombs and a four-year hiatus. For his return, Pacino jumped into a modern noir, playing a detective caught up in the games of a serial killer finding victims through the singles column. Pacino has fantastic chemistry with Ellen Barkin in this clever little game of cat and mouse.
Shattered Glass
The scandalous career of disgraced journalist Stephen Glass is vividly captured in this 2003 drama from Billy Ray, featuring the best screen performance from Hayden Christensen. The man who would become Anakin plays Glass, whose life was turned upside down when it was revealed that much of what he had presented as nonfiction was entirely fabricated. Peter Sarsgaard is phenomenal here too.
Short Term 12
Long before she would be Captain Marvel, Brie Larson played a worker at a group home for troubled teenagers in this powerful drama. Based on his own experience, Destin Daniel Cretton wrote and directed this critical darling that now looks like a launchpad for a generation of stars including Larson, Lakeith Stanfield, Rami Malek, Stephanie Beatriz, John Gallagher Jr., and Kaitlyn Dever.
Sin Nombre
The foreign-language selection on Peacock is depressingly slight, but there is Sin Nombre, an excellent Mexican-American film about a Honduran girl's journey from her country to the United States. The harrowing path that a young person has to travel just to get to safety has rarely been captured better on film, and the movie won several awards for Cary Joji Fukunaga, who is now directing the new Bond film No Time to Die.
Spellbound
No, not the Hitchcock classic about spies but the 2002 Oscar nominee that's about spelling. Jeffrey Blitz directed this funny and heartwarming study of eight contestants during the 1999 Scripps National Spelling Bee. Come to think of it, this movie is perfect for a follow-up. Wouldn't you love to know where these kids are two decades later?
The Sting
Paul Newman and Robert Redford were two of the biggest stars in the world when this caper film was released in 1973 to remind people why they were so damn popular. They play two grifters who try to con a mob boss, played by Robert Shaw, in a film that simply rocked both audiences and critics, making a fortune on its way to seven Academy Awards, including Best Picture.
Topsy-Turvy
Mike Leigh only makes good movies, including this 1999 one that tells the story of the production of The Mikado, a legendary play by W.S. Gilbert (Jim Broadbent) and Sir Arthur Sullivan (Allan Corduner). Playful and light on its feet, it's one of the best films about the theater ever made.
[ad_2]

Source link